Gallery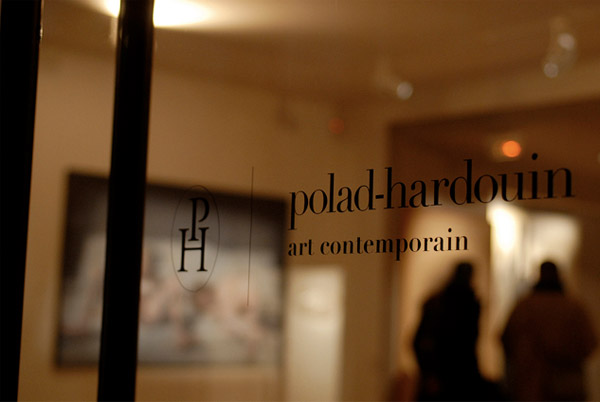 Created in 2001, the gallery Polad-Hardouin opened with a tribute to the artist Stani Nitkowski (1949-2001). In the wake of that exhibition, the gallery chose to consolidate a policy of rehabilitation of New Figuration artists such as Maryan (1927-1977) or Michel Macréau (1935-1995). These were rapidly joined by younger artists with unusual backgrounds, such as Sabhan Adam from Syria.
In Autumn 2009, the exhibition "Holy Destruction" presented the works by twenty international artists. Such an experience, repeated several times with the exhibition "Riders" in 2010 and the double exhibition "Mr. Killer & Lady Paranoia" in 2011, allowed the gallery to present established artists such as Bjarne Melgaard, André Butzer, Jonathan Meese, Valérie Favre, Mâkhi Xenakis or Armen Eloyan, followed by artists such as Lucy Stein, Véronique Bourgoin, Russell Tyler, Guillaume Bruère.
Following the dynamics of these events, the gallery organised a series of personal exhibitions by Gérard Alary, Raphaëlle Ricol, Wu Xiaohai, Marcel Hüppauff, Christophe Boursault, Andrew Gilbert, Raynald Driez, Emmanuelle Renard and, more recently, by Anya Belyat-Giunta. Better known in the world of furniture and design, Elizabeth Garouste presented for the first time her drawings and sculptures in November 2011. In a constant effort to discover and share emerging painters and graphic artists, the gallery presented the works by Caroline Demangel, Ayako David-Kawauchi and Daniel Flammer.
In the past few years, the gallery has strived to consolidate international collaborations with various European galleries such as Gabriel Rolt in Amsterdam, Gimpel Fils in London, or the gallery C in Neuchâtel. In 2011/2012, an exchange was set up with the gallery van de Loo Projekte in Munich: "Gastspiel Paris/Munich /Paris". Eight artists represented by the German gallery were exhibited in Paris, and about ten artists of the gallery Polad-Hardouin had an exhibition in Germany.
The gallery is also present extra muros through its participation in art fairs: the salon Drawing Now in Paris since its inception, a presence at Scope (London) in 2008, the Arts and Design Pavilion at the Tuileries (2009) and Arts Elysées in Paris (2008 and 2012).
In 2002 and 2007, the gallery Polad-Hardouin collaborated with Halle Saint-Pierre in Paris, first for an exibition on Stani Nitkowski, then for one on Christine Sefolosha.
In 2011, the Muba Eugène Leroy has invited several artists of the gallery to an exhibition on contemporary drawing entitled "Paysage Mental : le dessin sans dessein" (curated by Yannick Courbès). In 2012, the Château de Servières in Marseille invited several artists to the collective exhibition "A votre décharge" (curated by Christophe Boursault). In 2011, the CNAP acquired a work by Rapahëlle Ricol. This year, the permanent collection of the Centre Georges Pompidou features seven drawings by Maryan.
Programme 2012 - 2013
Until march 8
Primitive cabaret, a spiritual voodoo confrontation: Andrew Gilbert, Michel Macréau, Helmut Rieger, Christine Sefolosha, avec la participation d'Omar Ba, représenté par la galerie Anne de Villepoix
20 Mars - 20 Avril
Gérard Alary, Matière et existence

25 April -22 June
Les maitres fous, starring Andrew and Emil Nolde Andrew Gilbert
Les chants captifs, Daniel Flammer
Gallery hours:
Open Tuesday through Saturday
From 11.00 am to 7.00 pm and by appointment
86 rue Quincampoix
75003 Paris
Tel: 33 (0)1 42 71 05 29
contact [at] polad-hardouin [dot] com
Metro : Châtelet, Les Halles, Rambuteau, Etienne Marcel

Parking : Centre Georges Pompidou or 33 boulevard Sébastopol